Space, The Universe, and Everything
31 Jan - 4 Feb | 6:00pm - 9:30pm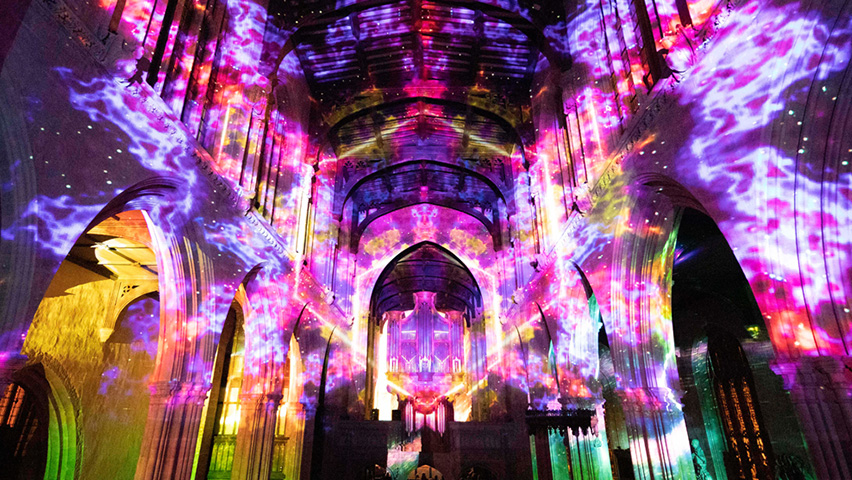 A spectacular son-et-lumiere experience produced by Luxmuralis
An opportunity to ponder our relationship with planet Earth and beyond is explored in a fantastic sound and light experience, taking visitors on an incredible journey through space to see galaxies emerge, and explore humanity's ambition to adventure.
The exterior of St Martin's will be adorned with sound and light, drawing viewers to admire the majestic architecture and enjoy the spectacular imagery which tells the story of human exploration.
Inside the building the projections continue, allowing visitors to walk through the light-artworks and be immersed in the installations which are all set to bespoke music.
Visitors will see footage of the first rocket launch, explore the creation story and the Big Bang, all within the sacred space of the church, and view the final image of Earth as if looking back from space under a galaxy of stars.
Just as Neil Armstrong, Buzz Aldrin and Michael Collins stated: "We are so tiny in the system of things"
Artist Peter Walker says:
"We are all responsible for this small planet that we started to explore in the 1960's. The artwork is about reflecting inwards as much as it is about reflecting outwards, and about how we take care of our small piece of the Universe."
This event is an hour long. To manage the flow of people through this immersive exhibition, we are running staggered admission times at 15 minute intervals.
Dates, Times & Book
Terms and Conditions

Other things to do
Thursday 23 March 2023
7:00 pm - 9:00 pm
One of Europe's most exhilarating young ensembles performs two of the greatest musical testimonies to war, totalitarianism, and the destruction they wrought.
Find Out More

Saturday 15 April 2023
7:00 pm - 9:00 pm
Apollo's Fire lights up the Saturday night sky, with flamboyant interpretations of Vivaldi's Four Seasons followed by a late night party in the crypt. Baroque, but not as you know it…
Find Out More