Cabaret in the Crypt: the best of West End musicals
13 January - 30 November 2024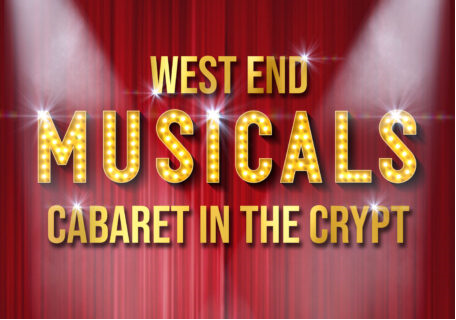 Like musicals? You'll love this show!
We present 4 of the West End's leading singing stars in a stunning cabaret evening featuring the best loved songs from hit West End shows. Over the course of a magical evening, you could hear songs from Wicked, Cabaret, Frozen, Hamilton, Les Miserables, Funny Girl, Pippin, and many more!
Each of our singers are highly talented lead or understudy singers from current or recent hit shows and they come together in a glittering evening of songs and entertainment.
With great food such as sharing platters, wine, cocktails and beers to enjoy in the intimate setting of our spectacular underground Crypt bar, our Cabaret evening gives you the best of the West End, in one fantastic location!
Doors open from 7pm allowing you plenty of time to settle in, and enjoy some delicious food and drinks before the show starts at 8pm.
Dates, Times & Book
| | | | |
| --- | --- | --- | --- |
| Sat 13 Jan | 7:00 PM | £20/£9/£29 | Book |
| Sat 27 Jan | 7:00 PM | £20/£9/£29 | Book |
| Sat 10 Feb | 7:00 PM | £20/£9/£29 | Book |
| Wed 14 Feb | 7:00 PM | £20/£9/£29 | Book |
| Sat 24 Feb | 7:00 PM | £20/£9/£29 | Book |
| Sat 09 Mar | 7:00 PM | £20/£9/£29 | Book |
| Sat 16 Mar | 7:00 PM | £20/£9/£29 | Book |
| Sat 13 Apr | 7:00 PM | £20/£9/£29 | Book |
| Sat 20 Apr | 7:00 PM | £20/£9/£29 | Book |
| Sat 04 May | 7:00 PM | £20/£9/£29 | Book |
| Sat 25 May | 7:00 PM | £20/£9/£29 | Book |
| Sat 01 Jun | 7:00 PM | £20/£9/£29 | Book |
| Sat 08 Jun | 7:00 PM | £20/£9/£29 | Book |
| Sat 15 Jun | 7:00 PM | £20/£9/£29 | Book |
| Sat 22 Jun | 7:00 PM | £20/£9/£29 | Book |
| Sat 06 Jul | 7:00 PM | £20/£9/£29 | Book |
| Sat 13 Jul | 7:00 PM | £20/£9/£29 | Book |
| Sat 27 Jul | 7:00 PM | £20/£9/£29 | Book |
| Sat 03 Aug | 7:00 PM | £20/£9/£29 | Book |
| Sat 10 Aug | 7:00 PM | £20/£9/£29 | Book |
| Sat 17 Aug | 7:00 PM | £20/£9/£29 | Book |
| Sat 24 Aug | 7:00 PM | £20/£9/£29 | Book |
| Sat 07 Sep | 7:00 PM | £20/£9/£29 | Book |
| Sat 14 Sep | 7:00 PM | £20/£9/£29 | Book |
| Sat 21 Sep | 7:00 PM | £20/£9/£29 | Book |
| Sat 05 Oct | 7:00 PM | £20/£9/£29 | Book |
| Sat 19 Oct | 7:00 PM | £20/£9/£29 | Book |
| Sat 02 Nov | 7:00 PM | £20/£9/£29 | Book |
| Sat 16 Nov | 7:00 PM | £20/£9/£29 | Book |
| Sat 30 Nov | 7:00 PM | £20/£9/£29 | Book |
Terms and Conditions