Christmas Gingerbread Decorating Workshop
25 November - 23 December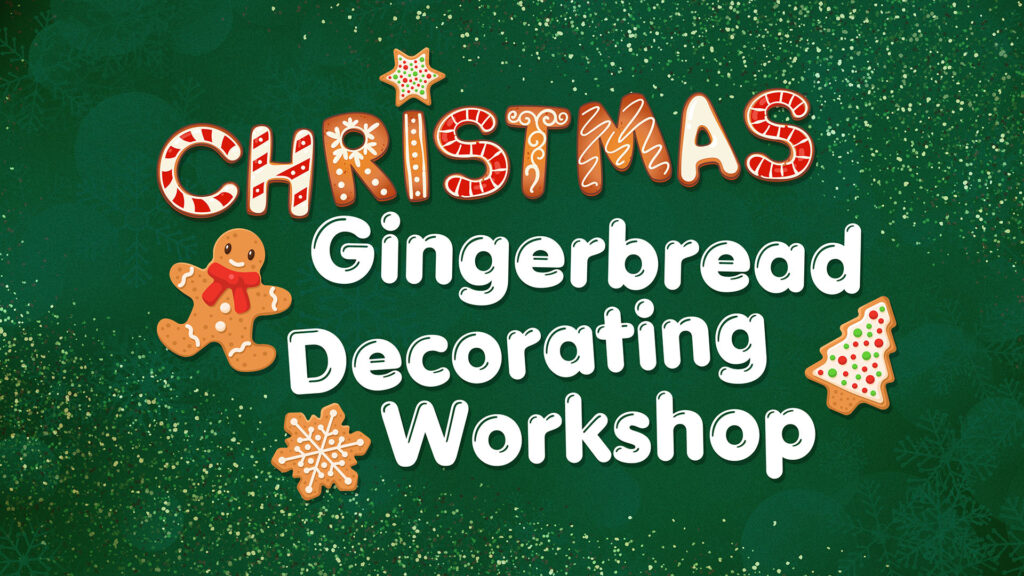 Treat the kids this Christmas with a festive gingerbread decorating workshop!
Enter our North Pole Gingerbread kitchen, filled with yuletide decorations, where two jolly baker elves from Santa's very own workshop are eager to share the secrets of Santa's favourite festive treat: gingerbread!
Your children will have the chance to decorate delightful gingerbread biscuits, that have been pre-baked following a recipe straight from Santa's kitchen into an array of festive shapes including stars, Christmas trees and gingerbread elves. Enjoy a merry mingle with the elves, who will reveal the secrets behind Santa's love for gingerbread, and with a Christmassy sing-song finale led by the elves themselves, this 45-minute session will leave your hearts aglow with holiday cheer. Children can take their festive creations with them, as gingerbread treats to enjoy and share at home.
Grown-ups can buy a warming glass of mulled wine from the elvish bar while the little ones decorate their biscuits, or grab a special hot chocolate in the crypt café.
Ticketing Information
Available on Saturdays and Sundays from 25 November until 23 December at 10am, 11am, 12pm, 2pm, 3pm, 4pm and 5pm.
Each ticket is valid for one child and up to two accompanying adults. Every child requires a separate ticket.
Children must be accompanied by an adult, but unfortunately we can only accommodate up to two adults per child.
Advisory Note
Suitable for children aged 4+.

Please be aware that the gingerbread and other consumables may contain or come into contact with common allergens, such as dairy, eggs, wheat, soybeans, tree nuts, peanuts, fish, shellfish or wheat. For more information, please speak to a member of staff for details. 

Dates, Times & Book
| | | | |
| --- | --- | --- | --- |
| Sat 25 Nov | 10:00 AM | £20 | Book |
| Sat 25 Nov | 11:00 AM | £20 | Book |
| Sat 25 Nov | 12:00 PM | £20 | Book |
| Sat 25 Nov | 2:00 PM | £20 | Book |
| Sat 25 Nov | 3:00 PM | £20 | Book |
| Sat 25 Nov | 4:00 PM | £20 | Book |
| Sat 25 Nov | 5:00 PM | £20 | Book |
| Sun 26 Nov | 10:00 AM | £20 | Book |
| Sun 26 Nov | 11:00 AM | £20 | Book |
| Sun 26 Nov | 12:00 PM | £20 | Book |
| Sun 26 Nov | 1:00 PM | £20 | Book |
| Sun 26 Nov | 2:00 PM | £20 | Book |
| Sun 26 Nov | 3:00 PM | £20 | Book |
| Sun 26 Nov | 4:00 PM | £20 | Book |
| Sun 26 Nov | 5:00 PM | £20 | Book |
| Sat 02 Dec | 10:00 AM | £20 | Book |
| Sat 02 Dec | 11:00 AM | £20 | Book |
| Sat 02 Dec | 12:00 PM | £20 | Book |
| Sat 02 Dec | 2:00 PM | £20 | Book |
| Sat 02 Dec | 3:00 PM | £20 | Book |
| Sat 02 Dec | 4:00 PM | £20 | Book |
| Sat 02 Dec | 5:00 PM | £20 | Book |
| Sun 03 Dec | 10:00 AM | £20 | Book |
| Sun 03 Dec | 11:00 AM | £20 | Book |
| Sun 03 Dec | 12:00 PM | £20 | Book |
| Sun 03 Dec | 1:00 PM | £20 | Book |
| Sun 03 Dec | 2:00 PM | £20 | Book |
| Sun 03 Dec | 3:00 PM | £20 | Book |
| Sun 03 Dec | 4:00 PM | £20 | Book |
| Sun 03 Dec | 5:00 PM | £20 | Book |
| Sat 09 Dec | 10:00 AM | £20 | Book |
| Sat 09 Dec | 11:00 AM | £20 | Book |
| Sat 09 Dec | 12:00 PM | £20 | Book |
| Sat 09 Dec | 2:00 PM | £20 | Book |
| Sat 09 Dec | 3:00 PM | £20 | Book |
| Sat 09 Dec | 4:00 PM | £20 | Book |
| Sat 09 Dec | 5:00 PM | £20 | Book |
| Sun 10 Dec | 10:00 AM | £20 | Book |
| Sun 10 Dec | 11:00 AM | £20 | Book |
| Sun 10 Dec | 12:00 PM | £20 | Book |
| Sun 10 Dec | 1:00 PM | £20 | Book |
| Sun 10 Dec | 2:00 PM | £20 | Book |
| Sun 10 Dec | 3:00 PM | £20 | Book |
| Sun 10 Dec | 4:00 PM | £20 | Book |
| Sun 10 Dec | 5:00 PM | £20 | Book |
| Sat 16 Dec | 10:00 AM | £20 | Book |
| Sat 16 Dec | 11:00 AM | £20 | Book |
| Sat 16 Dec | 12:00 PM | £20 | Book |
| Sat 16 Dec | 2:00 PM | £20 | Book |
| Sat 16 Dec | 3:00 PM | £20 | Book |
| Sat 16 Dec | 4:00 PM | £20 | Book |
| Sat 16 Dec | 5:00 PM | £20 | Book |
| Sun 17 Dec | 10:00 AM | £20 | Book |
| Sun 17 Dec | 11:00 AM | £20 | Book |
| Sun 17 Dec | 12:00 PM | £20 | Book |
| Sun 17 Dec | 1:00 PM | £20 | Book |
| Sun 17 Dec | 2:00 PM | £20 | Book |
| Sun 17 Dec | 3:00 PM | £20 | Book |
| Sun 17 Dec | 4:00 PM | £20 | Book |
| Sun 17 Dec | 5:00 PM | £20 | Book |
| Mon 18 Dec | 10:00 AM | £20 | Book |
| Mon 18 Dec | 11:00 AM | £20 | Book |
| Mon 18 Dec | 12:00 PM | £20 | Book |
| Mon 18 Dec | 2:00 PM | £20 | Book |
| Mon 18 Dec | 3:00 PM | £20 | Book |
| Mon 18 Dec | 4:00 PM | £20 | Book |
| Mon 18 Dec | 5:00 PM | £20 | Book |
| Tue 19 Dec | 10:00 AM | £20 | Book |
| Tue 19 Dec | 11:00 AM | £20 | Book |
| Tue 19 Dec | 12:00 PM | £20 | Book |
| Tue 19 Dec | 2:00 PM | £20 | Book |
| Tue 19 Dec | 3:00 PM | £20 | Book |
| Tue 19 Dec | 4:00 PM | £20 | Book |
| Tue 19 Dec | 5:00 PM | £20 | Book |
| Wed 20 Dec | 10:00 AM | £20 | Book |
| Wed 20 Dec | 11:00 AM | £20 | Book |
| Wed 20 Dec | 12:00 PM | £20 | Book |
| Wed 20 Dec | 2:00 PM | £20 | Book |
| Wed 20 Dec | 3:00 PM | £20 | Book |
| Wed 20 Dec | 4:00 PM | £20 | Book |
| Wed 20 Dec | 5:00 PM | £20 | Book |
| Thu 21 Dec | 10:00 AM | £20 | Book |
| Thu 21 Dec | 11:00 AM | £20 | Book |
| Thu 21 Dec | 12:00 PM | £20 | Book |
| Thu 21 Dec | 2:00 PM | £20 | Book |
| Thu 21 Dec | 3:00 PM | £20 | Book |
| Thu 21 Dec | 4:00 PM | £20 | Book |
| Thu 21 Dec | 5:00 PM | £20 | Book |
| Fri 22 Dec | 10:00 AM | £20 | Book |
| Fri 22 Dec | 11:00 AM | £20 | Book |
| Fri 22 Dec | 12:00 PM | £20 | Book |
| Fri 22 Dec | 2:00 PM | £20 | Book |
| Fri 22 Dec | 3:00 PM | £20 | Book |
| Fri 22 Dec | 4:00 PM | £20 | Book |
| Fri 22 Dec | 5:00 PM | £20 | Book |
| Sat 23 Dec | 10:00 AM | £20 | Book |
| Sat 23 Dec | 11:00 AM | £20 | Book |
| Sat 23 Dec | 12:00 PM | £20 | Book |
| Sat 23 Dec | 2:00 PM | £20 | Book |
| Sat 23 Dec | 3:00 PM | £20 | Book |
| Sat 23 Dec | 4:00 PM | £20 | Book |
| Sat 23 Dec | 5:00 PM | £20 | Book |
Terms and Conditions