Life
30 Jan - 3 Feb 2024 | 5.30-9.45pm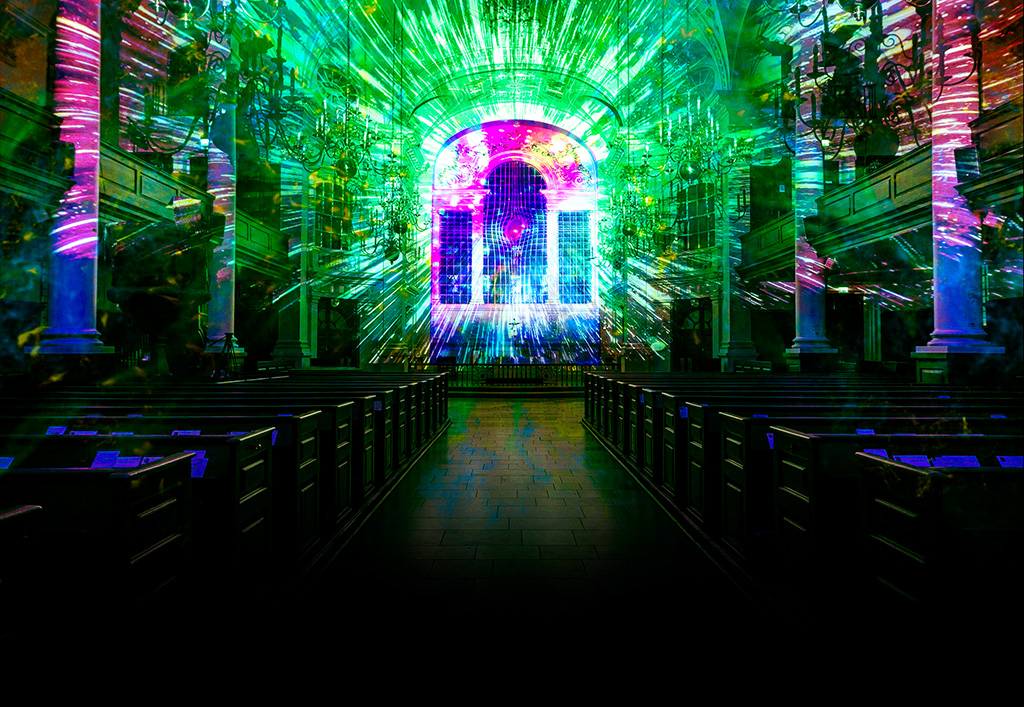 A spectacular sound and light experience at St Martin's
Following on from the incredible success of 'Space', last year, we invite you to immerse yourself in a new unique experience that celebrates the natural world around us. The spectacular sound and light show – 'Life' – will be projected onto the outside of our buildings, throughout our underground Crypt, and finally culminate in a sensational light show filling the whole of the Church. This colourful and immersive light display will take you a journey through earth, sea and sky in a dazzling show suitable for all ages.
The outside of our buildings will feature incredible projections which will draw viewers to admire the centuries-old architecture of St Martin's and reflect on spectacular imagery which will bring the natural world to life and give us time to reflect on our responsibility to protect it.
Inside the building the projections will continue in our stunning Crypt, allowing visitors to walk through the light-artworks and be immersed in the installations which are all set to bespoke music. Within a gentle and atmospheric soundscape, you will finally enter the Church and finish with a dazzling journey across night and day exploring different themes and aspects of our beautiful world.
The experience will last around 40 minutes, culminating with a 15-minute final seated sequence in the Church, however visitors may stay as long as they wish after entering to fully absorb the experience. The show will begin outside in our Courtyard and our outdoor Courtyard Café & Bar will be open for you to enjoy drinks before or after you have experienced the show.
Don't just take our word for how wonderful the experience is! Hear from visitors from the January 2023 installation 'Space, The Universe and Everything'
'Life' is produced and presented by artist Peter Walker and Luxmuralis, a collaborative team combining artists from different backgrounds and artistic disciplines whose aim is to take art onto the streets and provide access to visual artwork in public as well as unexpected places.
Ticketing  and Visiting Information
To manage the flow of people through this immersive exhibition, we are running staggered admission times at 15 minute intervals.
The experience is fully accessible and suitable for all ages.
Tickets are priced depending on the time of your visit, starting at just £8 and with premium slots at £12.
All tickets for under 16s are £5.
Children under two years of age do not need a ticket, but visitors are advised that there is unfortunately no storage available for pushchairs.
The entrance to the show is via our outside Courtyard at the rear of the church.
Pre-booking is strongly advised as very limited tickets will be available on the day.
Dates, Times & Book
| | | | |
| --- | --- | --- | --- |
| Tue 30 Jan | 5:30 PM | | Sold Out |
| Tue 30 Jan | 5:45 PM | | Sold Out |
| Tue 30 Jan | 6:00 PM | | Book |
| Tue 30 Jan | 6:15 PM | | Book |
| Tue 30 Jan | 6:30 PM | | Book |
| Tue 30 Jan | 6:45 PM | | Book |
| Tue 30 Jan | 7:00 PM | | Book |
| Tue 30 Jan | 7:15 PM | | Book |
| Tue 30 Jan | 7:30 PM | | Book |
| Tue 30 Jan | 7:45 PM | | Book |
| Tue 30 Jan | 8:00 PM | | Book |
| Tue 30 Jan | 8:15 PM | | Book |
| Tue 30 Jan | 8:30 PM | | Book |
| Tue 30 Jan | 8:45 PM | | Book |
| Tue 30 Jan | 9:00 PM | | Book |
| Tue 30 Jan | 9:15 PM | | Book |
| Tue 30 Jan | 9:30 PM | | Book |
| Tue 30 Jan | 9:45 PM | | Book |
| Wed 31 Jan | 5:30 PM | | Book |
| Wed 31 Jan | 5:45 PM | | Book |
| Wed 31 Jan | 6:00 PM | | Book |
| Wed 31 Jan | 6:15 PM | | Book |
| Wed 31 Jan | 6:30 PM | | Book |
| Wed 31 Jan | 6:45 PM | | Book |
| Wed 31 Jan | 7:00 PM | | Book |
| Wed 31 Jan | 7:15 PM | | Book |
| Wed 31 Jan | 7:30 PM | | Book |
| Wed 31 Jan | 7:45 PM | | Book |
| Wed 31 Jan | 8:00 PM | | Book |
| Wed 31 Jan | 8:15 PM | | Book |
| Wed 31 Jan | 8:30 PM | | Book |
| Wed 31 Jan | 8:45 PM | | Book |
| Wed 31 Jan | 9:00 PM | | Book |
| Wed 31 Jan | 9:15 PM | | Book |
| Wed 31 Jan | 9:30 PM | | Book |
| Wed 31 Jan | 9:45 PM | | Book |
| Thu 01 Feb | 5:30 PM | | Book |
| Thu 01 Feb | 5:45 PM | | Book |
| Thu 01 Feb | 6:00 PM | | Book |
| Thu 01 Feb | 6:15 PM | | Book |
| Thu 01 Feb | 6:30 PM | | Book |
| Thu 01 Feb | 6:45 PM | | Book |
| Thu 01 Feb | 7:00 PM | | Book |
| Thu 01 Feb | 7:15 PM | | Book |
| Thu 01 Feb | 7:30 PM | | Book |
| Thu 01 Feb | 7:45 PM | | Book |
| Thu 01 Feb | 8:00 PM | | Book |
| Thu 01 Feb | 8:15 PM | | Book |
| Thu 01 Feb | 8:30 PM | | Book |
| Thu 01 Feb | 8:45 PM | | Book |
| Thu 01 Feb | 9:00 PM | | Book |
| Thu 01 Feb | 9:15 PM | | Book |
| Thu 01 Feb | 9:30 PM | | Book |
| Thu 01 Feb | 9:45 PM | | Book |
| Fri 02 Feb | 5:30 PM | | Book |
| Fri 02 Feb | 5:45 PM | | Book |
| Fri 02 Feb | 6:00 PM | | Book |
| Fri 02 Feb | 6:15 PM | | Book |
| Fri 02 Feb | 6:30 PM | | Book |
| Fri 02 Feb | 6:45 PM | | Book |
| Fri 02 Feb | 7:00 PM | | Book |
| Fri 02 Feb | 7:15 PM | | Book |
| Fri 02 Feb | 7:30 PM | | Book |
| Fri 02 Feb | 7:45 PM | | Book |
| Fri 02 Feb | 8:00 PM | | Book |
| Fri 02 Feb | 8:15 PM | | Book |
| Fri 02 Feb | 8:30 PM | | Book |
| Fri 02 Feb | 8:45 PM | | Book |
| Fri 02 Feb | 9:00 PM | | Book |
| Fri 02 Feb | 9:15 PM | | Book |
| Fri 02 Feb | 9:30 PM | | Book |
| Fri 02 Feb | 9:45 PM | | Book |
| Sat 03 Feb | 5:30 PM | | Book |
| Sat 03 Feb | 5:45 PM | | Book |
| Sat 03 Feb | 6:00 PM | | Book |
| Sat 03 Feb | 6:15 PM | | Book |
| Sat 03 Feb | 6:30 PM | | Book |
| Sat 03 Feb | 6:45 PM | | Book |
| Sat 03 Feb | 7:00 PM | | Book |
| Sat 03 Feb | 7:15 PM | | Book |
| Sat 03 Feb | 7:30 PM | | Book |
| Sat 03 Feb | 7:45 PM | | Book |
| Sat 03 Feb | 8:00 PM | | Book |
| Sat 03 Feb | 8:15 PM | | Book |
| Sat 03 Feb | 8:30 PM | | Book |
| Sat 03 Feb | 8:45 PM | | Book |
| Sat 03 Feb | 9:00 PM | | Book |
| Sat 03 Feb | 9:15 PM | | Book |
| Sat 03 Feb | 9:30 PM | | Book |
| Sat 03 Feb | 9:45 PM | | Book |
Terms and Conditions