A Dream for a New Social Order
Monday 15 November 2021
7:00 pm - 8:30 pm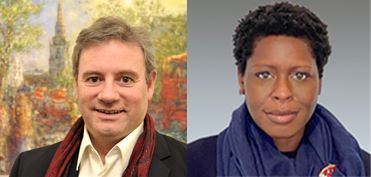 In the final lecture of this year's series We Have a Dream, Sam Wells considers the long shadow of Archbishop William Temple's 1942 book, Christianity and Social Order, which was so influential in the establishment of the welfare state. Is such a contribution from the church or a theologian appropriate in a much more plural society 80 years later? If so, what might such a vision encapsulate? Liz Adekunle responds with her own perspective on these questions and Sam's proposals.
How to book
If you cannot attend in-person, this lecture will also be streamed live online. For tickets to watch online, click here. 
We want to make sure that the Autumn Lecture Series is open to all. Free places are available for each lecture, in person and online.
If you can, please consider buying a ticket for £10 for you or for someone else. Your purchase will help keep our education programme open to all.
To book a ticket, please click the yellow "Book" button below.
Sam Wells is one of today's most influential public theologians. He writes, speaks, preaches and broadcasts on a range of pastoral, political and theological issues. He is Visiting Professor of Christian Ethics at King's College London. Sam has been Vicar of St Martin-in-the-Fields since 2012. He has served as a parish priest for 23 years – 10 of those in urban priority areas; he also spent 7 years in North Carolina, where he was Dean of Duke University Chapel. He has published 40 books.
Liz Adekunle has three Masters degrees; the first from SOAS in African Christianity and Development, the second, completed while she was training at Ridley Hall in pastoral care and counselling and the third a recent MA in Feminist Theory and the Church from Cambridge University. She was a former Chaplain and tutor at St Mellitus College and Chaplain and Acting Dean at St John's College, Cambridge. Liz is an Associate at Westminster Abbey, a Fellow at Ridley Hall and an Honorary Fellow at St Augustine's College of Theology.
Liz is a regular contributor on 'Thought for the Day' on BBC Radio 4, and was a contributor on 'Something Understood'. She is a regular speaker at Greenbelt Festival and Spring Harvest, an inter-denominational evangelical conference. Liz was awarded the Freedom of the City of London in April 2019 and is the Archdeacon of Hackney and Chaplain to Her Majesty the Queen.
Dates, Times & Book
Terms and Conditions