The Music of Consolation: Bach, Schütz & Schein
Thursday 16 June 2022
7:30 pm - 9:30 pm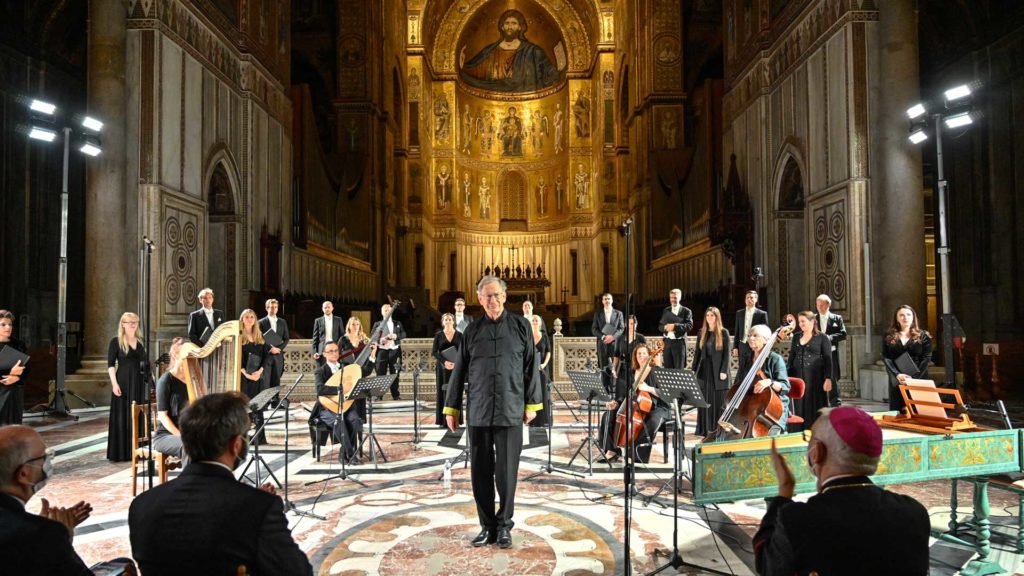 Soul music, baroque style: John Eliot Gardiner and the Monteverdi Choir perform heartfelt choral masterpieces by Schein, Schütz and Johann Sebastian Bach.
"With peace and joy I travel beyond; In God's will I trust with heart and mind…" For the composers of the German baroque, the rhythms and rituals of the church embraced every facet of human emotion, and every experience that the human soul could undergo. And for over five decades, John Eliot Gardiner and the Monteverdi Choir have put the sacred music of Bach, Schütz and their contemporaries at the centre of their shared artistic life. There are few more distinguished living interpreters of this repertoire, in all its warmth, its sorrow and its profoundly consoling beauty.
Programme
Schütz – Freue dich
Schütz – Ist nicht Ephraim
Schein – Da Jacob vollendet
Schütz – Auf dem Gebirge
Schütz – Musikalische Exequien
Bach – Aticus Tragicus BWV 106
Bach – O Jesu Christ meins Lebens Licht BWV 118
Performers
Monteverdi Choir
English Baroque Soloists
John Eliot Gardiner Conductor
Founded by John Eliot Gardiner as part of the breakaway period instrument movement of the 1960s, the Monteverdi Choir has always focused on bringing a new perspective to its repertoire.
With a combination of consummate choral technique and historically-informed performance practice, its real difference as an ensemble lies in its ability to communicate music to audiences worldwide. The Choir goes beyond the music, seeking to make the visual impact of its performance enhance the experience, even exploiting the venues themselves in the search for immediacy and drama. This approach has led the Monteverdi Choir to be consistently acclaimed over the past 50 years as one of the best choirs in the world.
Amongst a number of trailblazing tours was the Bach Cantata Pilgrimage in 2000, during which the Choir performed all 198 of J. S. Bach's sacred cantatas in more than 60 churches throughout Europe and America. The entire project, recorded by the company's record label Soli Deo Gloria, was hailed as, "one of the most ambitious musical projects of all time" by Gramophone magazine. The Monteverdi Choir has over 150 recordings to its name and has won numerous prizes.
The Choir is also committed to training future generations of singers through the Monteverdi Apprentices Programme. Many Apprentices go on to become full members of the Choir, and former Choir members have also gone on to enjoy successful solo careers.
Dates, Times & Book
| | | | |
| --- | --- | --- | --- |
| Thu 16 Jun | 7:30 PM | £60/£50/£38/£25/£10 | Book |
Terms and Conditions