Summer Stage
Saturday 20 August 2022
12:30 pm - 7:00 pm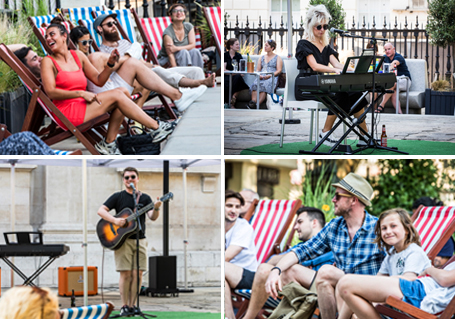 Come and join us through the summer with a free programme of live music in St Martin's Courtyard…
Drop in after work, grab a wine or beer and a deckchair and unwind to some great live bands. Or come at the weekend with friends and family to enjoy a leisurely afternoon in the sun (we hope!) Entry to the Courtyard is entirely FREE!
12.30 – 13.30 New Morning Blues
13.45 – 14.45 Yoji
15.00 – 16.00 Amy Taylor
16.15 – 17.15 Erin Bowman
17.45 – 19.00 IONE
About New Morning Blues
About Yoji
"Effortless and beautiful, your lyrics and ideas shine through" ‐ Huw Stevens BBC Radio 1
Born in London and later raised in Suffolk, Yoji is a soulful pop/ R&B singer, pianist and award winning songwriter. Fearlessly Yoji writes her songs as though they are extracts from her diary, heartfelt, honest and depicting fragments of her life. As young as 5 Yoji began creating songs in the playground and when she turned 8 she took up classical piano lessons to compliment her musical interests. Growing up in a family of artists Yoji felt supported to be expressive and creative with her music and image. Her mother a fashion graduate from St. Martins and painter was influenced by the Japanese designer Yohji Yammato whom Yoji is named after. While attending Goldsmiths as a Popular Music Masters student Yoji developed her production skills which is where she self produced and recorded her third EP Retro Romance.
Instagram: @yojimusic
About Amy Taylor
Amy Taylor is London-born singer songwriter. She has a clean sound and her original music spans across a wide range of genres, drawing influences from Pop, Country, Jazz, Soul and Soft Rock.
She captivates the audience through her effortless vocal control, as well as rich chord progressions and her ability to sing and create in different genres.
She writes about mental health struggles that she has faced, in the hope that someone else out there will relate to her lyrics and feel that they are not alone.
Instagram: @amytaylor_music
About Erin Bowman
With parents who grew up in the 60's, Erin Bowman has been listening and loving amazing music her entire life. Whether it was "Let it Be" by The Beatles, or "Born to Run" by Bruce Springsteen (a fellow New Jersey native), she was into it. A 90's baby herself, Bowman's knowledge and love for music spans decades. Inspired by pop artists of the 90's in particular she knew she wanted to pursue music at an early age.
Instagram: @erinbowmanmusic
Terms and Conditions